This site was updated on January 14, 2017

Now offering Free Shipping!

CLICK ON THE GALLERY BUTTON BELOW
TO SEE ALL MINIATURE BOOKS OFFERED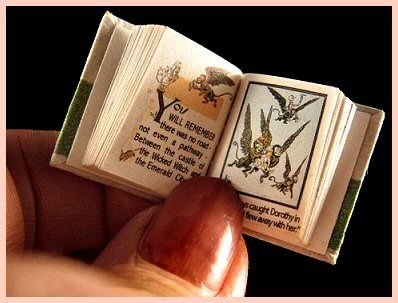 Handmade Miniature Books
Real books, Readable and Illustrated,
for the Dollhouse, Dolls or
Miniature Book Collection
PRESERVING LITERATURE IN MINIATURE
I sincerely hope you will find pleasure in the handmade miniature books on this site.
All of the books are handmade by me...a result of being a lover of literature and a miniatures enthusiast.
Many of the books are adapted miniature reproductions of full-sized volumes that are very old,
some are creations from my own imagination.
All of the books are suitable for display in your dollhouse, for accessorizing your dolls
or for your miniature book collection.
Unless otherwise noted, all books feature hand-stitched binding and are signed, numbered and dated.